Once a month Farnham has a farmers' market. This one is from 23rd June 2013.
16 pictures. Uploaded Sunday 23rd June, 2013 at 8:28 pm.
Fubra at The Mill at Elstead.
37 pictures. Uploaded Friday 7th December, 2012 at 12:00 pm.
Some skating, a Christmas market, and Westminster Cathedral.
34 pictures. Uploaded Wednesday 28th November, 2012 at 5:43 pm.
The first Regent Street Motor Show. Saturday 5 November 2011.
43 pictures. Uploaded Monday 5th November, 2012 at 12:33 pm.
TUC march through London on the 20th October, 2012.
44 pictures. Uploaded Saturday 20th October, 2012 at 8:33 pm.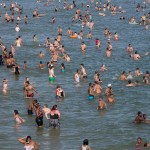 The sun was out, so I took a trip to Bournemouth beach.
59 pictures. Uploaded Sunday 19th August, 2012 at 1:16 pm.
Women's walk race from the Olympic Games in London.
49 pictures. Uploaded Saturday 11th August, 2012 at 1:23 pm.
Three stages of live local bands in Aldershot town centre.
120 pictures. Uploaded Saturday 21st July, 2012 at 1:53 pm.
Things up in the sky at Farnborough International Airshow 2012.
81 pictures. Uploaded Saturday 14th July, 2012 at 2:53 pm.
2012 saw the Diamond Jubilee of Queen Elizabeth II. Among other things there was a River pagent in London to celebrate.
40 pictures. Uploaded Sunday 3rd June, 2012 at 3:20 pm.